News & Events
Domestic stimulus - a long-term strategy of the agricultural sector
The Prime Minister determined that boosting domestic demand is one of the key tasks of many economic sectors in the coming time. For agriculture, boosting domestic consumption is not only an immediate campaign but also is a long-term strategy to seize competitive advantages in the current integration period.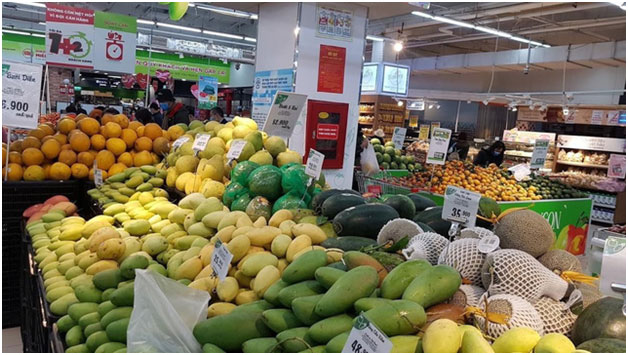 Domestic stimulus - a long-term strategy of the agricultural sector.
The Prime Minister determined that boosting domestic demand is one of the key tasks of many economic sectors in the coming time. For agriculture, boosting domestic consumption is not only an immediate campaign but also is a long-term strategy to seize competitive advantages in the current integration period.
Around this issue, the Government Newspaper correspondent had an interview with Mr. Nguyen Quoc Toan, Director of the Department of Agricultural Product Processing and Market Development.
As an advisory unit on processing and trading of agricultural products, how do you view the impact of domestic stimulus on agricultural products?
Mr. Nguyen Quoc Toan: It can be said that the domestic market is always the concern of different entities, including from: State management agencies in agriculture, enterprises, farmers and localities. ...
The story of domestic market development is highly regarded by developed countries, so it can be said that they value the export market. In Vietnam, the Government has directed the most relevant ministries and sectors, especially the Industry and Trade sector. Regarding the development of a domestic market development strategy, for the agricultural sector, we expect agricultural products to bring into full play the potentials and strengths to boost consumption with the highest purpose of serving. Vietnamese people.
Vietnam's agricultural products have reached many different criteria so far. Quality has been enhanced with the most important link of ensuring food hygiene and safety. We have implemented the Law on Food Safety and have done a good job launching the "Vietnamese people prefer to use Vietnamese goods" movement.
We are also aware that promoting domestic agricultural consumption is standardizing agricultural products in terms of specifications, quality, packaging, branding ... As an advisory body for the Ministry of Agriculture and Rural Development on market development and processing, We see this as a way to help the price of agricultural products be located in the better segment.
Along with that, improving the quality and standardizing the brand will help agricultural products to be distributed through supermarkets, hypermarkets and convenience stores. The farmers' cooperatives are more synchronized, spend the whole season as well as enjoy policies and stimulus programs of supermarket chains.
How do you view the role of wholesale markets in stimulating consumption of agricultural products?
Mr. Nguyen Quoc Toan: Currently there are more than 30 major wholesale markets operating, of which 17 markets are in urban areas and the rest are in rural areas. If classified by specialized trading volume with a range of 100 tons - 300 tons / day, there are about 15 major wholesale markets for vegetables, 5 wholesale markets for aquatic products, 2 wholesale markets for cattle and poultry.
Wholesale markets are an important channel to boost domestic consumption. If these products are concentrated in these wholesale markets, it will be a huge filter for goods to be qualified before consumption in urban areas. But in reality, the wholesale markets are not really diverse.
We need to promote the wholesale model of international wholesale markets. We have been studying and visiting foreign wholesale markets with the model of inter-regional wholesale markets, joint ventures with domestic ... fruit. It is necessary to build wholesale markets capable of connecting with traffic, having favorable conditions for transshipment of seaports, having goods gathering or preliminary processing areas for packing, quality control and quality control. tight quantity before distributing to the focal point of consumption ... At that time, not only domestic consumption but also export will be significantly boosted.
In your opinion, what are the bottlenecks in promoting domestic agricultural consumption today?
Mr. Nguyen Quoc Toan: Currently, the network of supermarkets, hypermarkets and wholesale markets is not diverse and plentiful. Especially, the commercial infrastructure is distributed evenly by urban and rural areas.
According to industry and trade statistics, by the beginning of 2019, nearly 9,000 markets will operate. In particular, divided into nearly 300 first-class markets, over 950 second-class markets and about 7,500 third-class markets. Besides, there are nearly 200 commercial centers present in nearly 50 provinces and cities .... The problem that needs to be solved is that the infrastructure needs to be distributed evenly, so that Vietnamese consumers will have quick access to utilities and need to have a separate agricultural product store.
Another bottleneck I think lies in the behavior of consumers. Through the recent pandemic, the purchasing power of Vietnamese food and foodstuffs has become more and more strong.To support further stimulus, need to promote e-commerce, people can sit at home and order supermarkets, This requires linking domestic trade with e-commerce.
Finally, it is necessary to organize closely the supermarket chain with the system of agricultural cooperatives and farmers to promote the consumption of regional specialty groups, product groups of the OCOP program ... This will help Vietnamese agricultural products have more frequency to enter supermarkets and develop more sustainably through this channel.
In your opinion, what is the best advantage of Vietnamese agricultural products at home? Will the coming wave of integration, especially the participation of the "big" in foreign retail industry into Vietnam, will Vietnamese agricultural products be competitive?
Mr. Nguyen Quoc Toan: I believe Vietnamese agricultural products will still have a foothold in the domestic market because this is a traditional market, producers understand consumers, and share the same culture with consumers. Especially with the advantage of fresh food, no imported products can replace it.
It is important that we standardize the quality of agricultural products. For the Export market, we have standardized 3 levels with key agricultural products with export value of billions of USD to follow the standards of the Import market. That standard will be specified by countries such as Global Gap, European standards ... when being firm in the Export market, it is also the time when we are confident to have a more sustainable passport in the domestic market. . That is why the promotion of Export always goes hand in hand with the development of the domestic market.
The appearance of large retail enterprises in Vietnam shows the attraction of the domestic market is very difficult.This is also a difficult problem for Vietnam Agricultural Enterprises but it only needs to promote its strengths in Our current agricultural production is still able to retain large enterprises and still consume domestically. This is also an impetus for more specialized and methodical agricultural production.